Wellesley's Values
We give boys every opportunity to discover the best version of themselves. That is because we hold each other accountable to our values: Risk taking in learning, perseverance for our personal bests, and respect and empathy for self, others and Wellesley.
Through our unrivaled environment, our strong Anglican ethos and our clear Code of Conduct, we have created a culture of community, inclusivity and respect, blending over a century of tradition with future-focused teaching and learning.
Risk taking in learning
Risk taking in learning
We are happy to be challenged and to challenge; it's fun to try new experiences. 'It is cool to try and to fail than not to try at all.' We are inquiring, flexible, critical thinkers and questioners. As a school community we have passion and skills for life-long inquiry and learning.
Perseverance for personal bests
Perseverance for personal bests
Everyone strives for personal bests. Each boy has aspirations and is supported to achieve these. We build resilience for learning. Perseverance is celebrated along with success. We create diverse opportunities for leadership and personal bests.
Respect and empathy for self, others and Wellesley
Respect and empathy for self, others and Wellesley
We treat others as we wish to be treated; we 'stand in the other's shoes' to understand them; we 'look out' for one another; we display fairness; we build strong relationships across the school community.
See How our Values and School Traditions Come to Life
Wellbeing and Resilience at Wellesley
Promoting wellbeing and resilience is an important focus at Wellesley. With increasing involvement in extra-curricular activities, higher performance expectations, and less down-time away from technology, children are facing a greater level of stressors in their lives which can negatively affect their wellbeing.
We believe it is important to proactively build the ability to bounce back and move forward after a setback. Recent findings from scientific research have highlighted the benefits associated with higher levels of wellbeing – more creative thinking, a greater capacity for resilience, stronger relationships and improved academic outcomes.
There are three strands to this programme, each building on the other and  rolled out gradually throughout the year groups:
Personal wellbeing and healthy relationships-  Year 1 – 3 focus: Self-awareness and self-regulation, relationships and emotional resilience – an interactive classroom programme taught from a Christian perspective.
Mindfulness- Year 4 – 6 focus: Pause, Breathe, Smile mindfulness – a New Zealand developed and researched mindfulness programme for schools.
The Service Award- Year 7 – 8 focus:
The Wellesley Service Award – Bronze, silver and gold levels. The aim of the award is to encourage and acknowledge the students as they engage in acts of service at school, at home and in the community.
VIA character strengths – Character strengths are the characteristics that define what's best about people. When used effectively, character strengths can enhance health and overall wellbeing and resilience. The VIA Character Strength Survey is designed specifically to measure these 24 character strengths in individuals.
Whole school focus: KiVa
KiVa is a behaviour management system, developed in Finland, that has been shown to prevent bullying and to tackle cases of bullying effectively using prevention, intervention and monitoring strategies.
For more information please contact:
Libby is available to meet with students on Mondays and on Wednesday afternoons. Referrals can be made by parents and teachers. Libby provides a safe, accepting place to meet and talk and offers support for students experiencing change and loss, anxiety and other pastoral care needs. Libby is also the link person between Wellesley and St Alban's Anglican Church in Eastbourne. St Alban's currently hold their 10 am Sunday worship service in the Wellesley Hall.
Wellesley is blessed to have such wonderful children in our midst and a prayer team meets weekly to pray for the Wellesley staff, students and the wider community.
For more information please contact Libby Bloomfield chaplain@wellesley.school.nz.

Chapel is held in the Hall on Mondays at 9.15am. Parents are welcome to attend. The chapel themes this year will focus on:
The Wellesley values;
Christian values;
Special events in the church year.
For more information on key dates and themes for 2019 please contact Chévon O'Leary chevon@wellesley.school.nz
Wellesley Vision and Mission
Our Vision
" Each boy has every opportunity to excel"
Our Mission
"We bring out the best in each boy: Body, mind and spirit"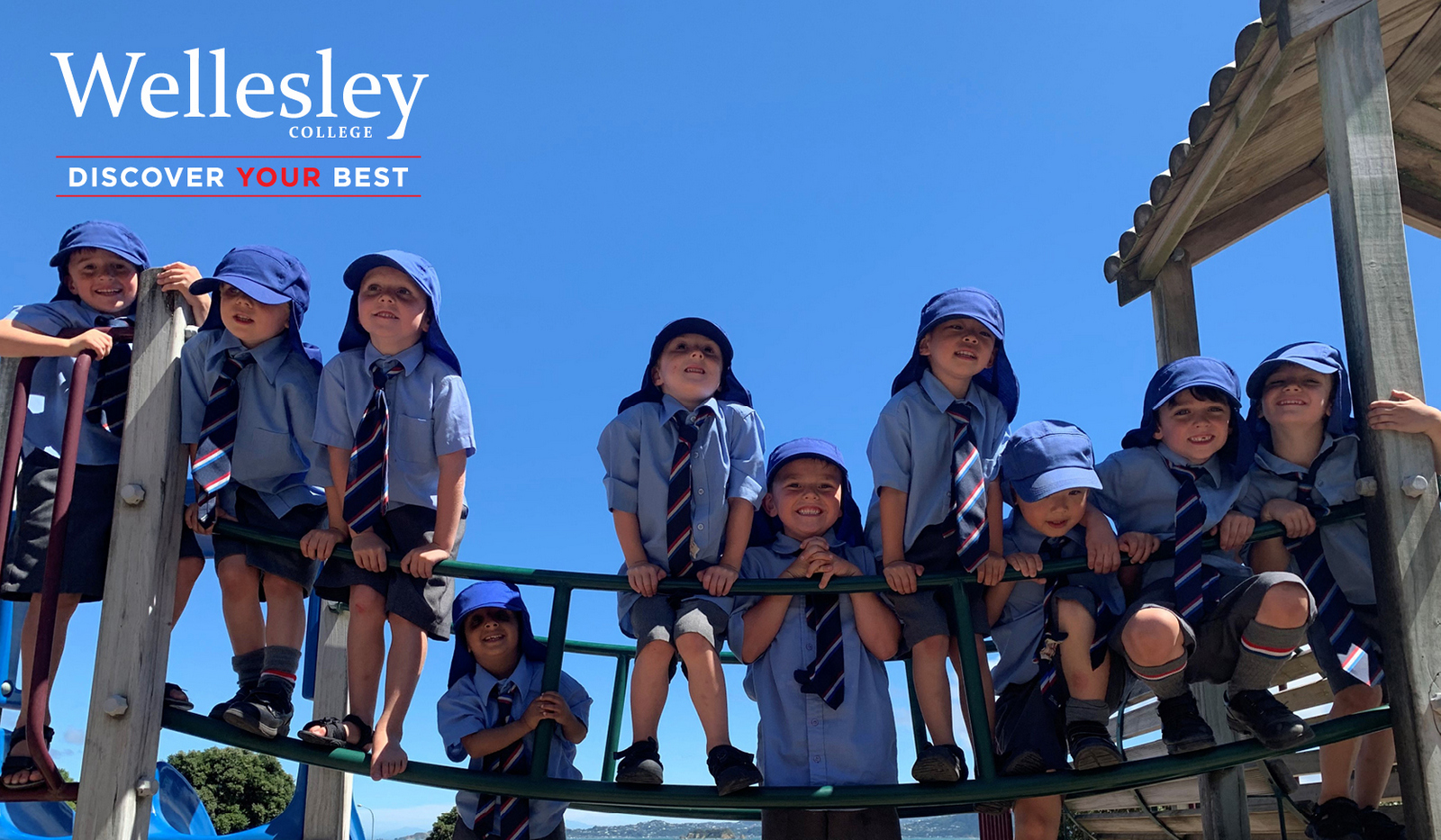 Wellesley Song and Prayer
Take me again to the College that fills
That special place between the harbour and hills
Take me again to the College that knows
That the spirit that is free
Is the spirit that grows
Alone we stumble but together we hold fast
To face the future and to honour the past
Courage to be different and ambition to be
Part of the long held tradition
That is Wellesley
(Chorus)
Amat Victoria Curam!
Victory through care!
Leap into life with an open mind
An open heart to share
We are Wellesley, Wellesley
All of our lives we will stay
Stay true to Wellesley, Wellesley
In the curve of the Bay
The curve of the Bay
The curve of the Bay
Each generation grows up sturdy and free
Learning the secrets of the bush and the sea
Each generation learns to seek and to find
The education that will blow away your mind
To know the power that is caught in a word
To hear the music in the song of a bird
To dance to the rhythm of the earth is to be
Part of the long held tradition
That is Wellesley
(repeat Chorus)
Wellesley School Haka
Torona kei waho!
Kei waho hoki mai!
Tēnei rā mātou ngā tauira toa
Kua whiria nei hei kaiārahi
Āhahā!  Ko te kupu kōrero
O to mātou kura
Te kāreti werehi
E tū ki runga
Me kimi i te wikitōria – ā – kura
I roto i ngā mahi kātoa nei
Tinana, (hi!) hinengaro, (ha!)
me te wairua rā
Whiti, whano, ka haramaī te toki
Haumi ē – hui ē – taiki ē
(Repeat from 'Tēnei rā mātou ….' then end with He!)
We throw out this challenge!
We are throwing it with you!
We are the student warriors
Weaving a pathway
To be future leaders
We stand before you
Presenting our school motto at
Wellesley College, which is
"Victory through Care"
With body, mind and spirit united we can
achieve our goals!
Wellesley Motto and Crest
'Amat Victoria Curam' is best translated for Wellesley's purposes as 'Victory through care'. The crest denotes the following: The cross represents the spiritual side of Wellesley, the light represents the lamp of learning and the bats and stumps represent sport.
The original design of the school crest and motto was a figure resembling Rodin's "Thinker". This is quite appropriate in many ways as our school highly values children's thinking.